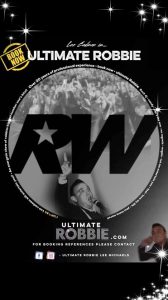 Robbie Williams Tribute
Let Him Entertain You!!!
This is going to be a fantastic night!
Old Wulfrunians would like to invite you to join us in welcoming one of the best Robbie Williams Tribute acts in the UK to the Old Wulfs Club.
Lee Cadman not only sounds like the real deal but has all the mannerisms and entertains just like the cheeky chap from Stoke!
This is strictly a ticket only event as it's guaranteed to be a packed night.
Tickets include a light buffet and a complimentary glass of fizz.
Tickets will go on sale in a few days so watch this space to keep updated with news!
£15 per ticket.