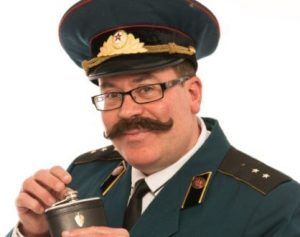 Meet Boris Nicoli, ex KGB agent, he will be your host for an evening of laughter at the Old Wulfs Beer Festival.
Get in early for a seat and enjoy a night of three, YES THREE (!) comedy acts. Boris will host and boggle your minds for the evening with his unique comedy! We will be stocking up on the vodka for this one!
Sure-fire laughter. "Creative, clever, intuitive, and really really funny." – Jodie Cook, JC Social Media
Witness the impossible. "How the hell did he do that?" – Model Sophie Anderton,
Join the whoopee. "Boris interacts with almost every member of the audience, creating a real sense of comradery" – Pieter Colpaert, Theatre Critic –
After the Cold War finished , what else could he do but join the entertainment biz.
Lindsay Santoro
"One of the most naturally hysterical and gifted comedians in recent memory" – Joe Lycett
Lindsey Santoro hails from Birmingham (but don't hold that against her). She recounts tales of her misadventures in life, all in her trademark down to earth, side-splitting style.
Masai Graham
A comedian from West Bromwich has won this year's Funniest Joke of the Fringe Award, hosted by TV network Dave. Stand-up comic Masai Graham has bagged the annual award, joining the ranks of previous winners such as Tim Vine, Rob Auton and Nick Helm.
The comedian, who calls himself "General Punochet", was previously named the UK's "Pun Champion" after winning a tournament hosted by Lee Nelson at the Leicester Comedy Festival in February.